Mark's contributions to the panel discussions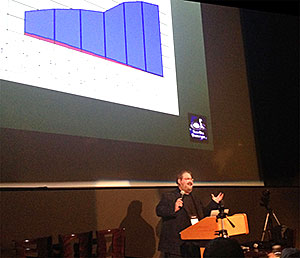 I'm back from the successful IMERSA meeting in Denver, where I gave three presentations. I've posted them as articles in Reference section of the Loch Ness Productions Web site.
First up: what's become an almost annual tradition — my State of the Dome Address. This time around, my talk was a bit more condensed than in previous years, but there's plenty of food for thought provided, as I review how our profession is faring in these times of economic stress.
Then, in two other panel discussions, I offered some insights about how we work.
At conferences like IMERSA, instead of passing around business cards, attendees are often seen passing around hard drives; we picked up a couple ourselves. Here at Loch Ness Productions, we get in hard drives from show producers on a regular basis — and I have to be organized, donning my IT officer hat, when dealing with the massive amounts of data.
In Ingestion Indigestion, I discuss what exactly I want to see on the hard drives we take in… and what I don't!
Then, in Using After Effects to make fulldome movies for distribution, I discuss what exactly I do with the frames and audio on those hard drives once they're ingested.
You don't need a library card to check out all the resources in our Reference library. Enjoy!