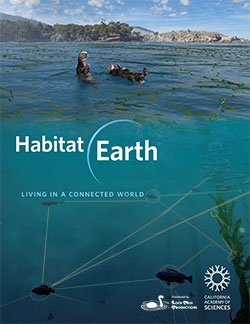 In honor of Earth Day 2015, Loch Ness Productions is pleased and proud to add a new show, "Habitat Earth: Living in a Connected World", to our distribution catalog for fulldome theaters everywhere on our planet.

The chain of life is the central focus of this 2015 program from the California Academy of Sciences' Morrison Planetarium. "Habitat Earth" offers stunning visualizations to focus our attention on the natural world and the dynamic relationships between all flora and fauna. Along the way, audiences will learn more about the ways humans fit into this ever-evolving story of connection, and what we can do to ensure that our cohabitation with the natural world leaves a healthy, sustainable planet for generations to come.  

Narrated by Academy Award-winning actor Frances McDormand, "Habitat Earth" advances the boundaries of traditional planetarium content, bringing a uniquely Earth-focused viewpoint to the dome. The 25-minute-long show recently won the Best Brno Observatory and Planetarium Director's Award at the Central European Fulldome Festival.

Come visit our "Habitat Earth" Web page for more information, previews, and prices.