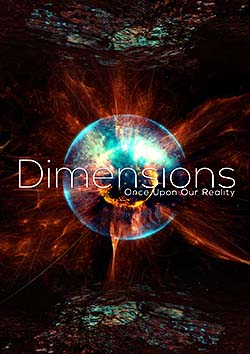 Have you ever pondered the really big questions, such as "What is reality?" and "Is there more to the universe than what we perceive with our senses"?
That's what media artists Rocco Helmchen and Johannes Kraas explore in their newest creation, "Dimensions -- Once Upon Our Reality", a scientifically inspired art and music fulldome show about the mysteries of time and space, the quantum universe, and the multiverse.
Loch Ness Productions was pleased to work with the producers on the English translation of this show (originally commissioned by the Planetarium Sternwarte Bochum in Germany). It's now ready for world-wide distribution, and should be of special interest to educators looking for creative STEM and STEAM programming.
"Dimensions" is an exploration of physics, quantum mechanics, inner and outer space, and the concept of the multiverse through the lens of art and music. The show focuses on the experience of the unknown and the feeling of the invisible universe. It's deserving of a spot in every dome's repertory.
"Dimensions" also expands the concept of an arts and music show, combining carefully measured narration with the key component of music. Johannes' original compositions and orchestrations function as a spark for the audience's emotions, while the sound design enhances and expands Rocco's visuals. Following the principles of "visual music", image and sound influence each other, fusing these elements into a dynamic harmonious choreography.
"Dimensions -- Once Upon Our Reality" invites audiences to let go, drift away, think big, have fun, and most of all stay curious about physics, math and more. It's an amazing and entertaining journey built on and inspired by science and discovery.
We invite you to explore more info, previews and online ordering on our Web site:
https://www.lochnessproductions.com/shows/roc/dmn.html
For instant gratification, rent the show on FULLDOME OnDemand:
https://www.fulldomeondemand.com/shows_ae.html#DMN
And get it for virtual reality viewing at VR Dome Theater: