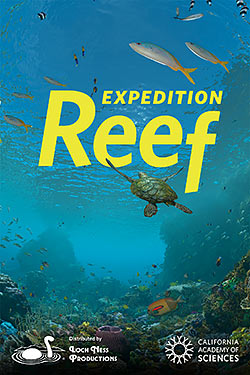 Coral reefs are among the world's most beautiful and endangered environments. In its new fulldome show, Expedition Reef, the California Academy of Sciences explores these fragile, biodiverse ecosystems -- and the actions scientists are taking to restore and preserve them.

Narrated by award-winning actor Lea Salonga, Expedition Reef immerses audiences in an undersea adventure, to a part of the planet most people never get to explore. Vivid scenes of underwater realms result from hundreds of hours of animation design, production, and collaboration between scientists and the visualization team, referencing 360-degree footage and high-resolution images collected by Academy divers. "Expedition Reef" enriches and educates audiences of all ages, giving them an appreciation of the splendor of the reefs.
Loch Ness Productions is pleased to offer you Exploration Reef. License it for your theater today!
For more info, previews, and online ordering, visit our Web site:

https://www.lochnessproductions.com/shows/cas/exr.html