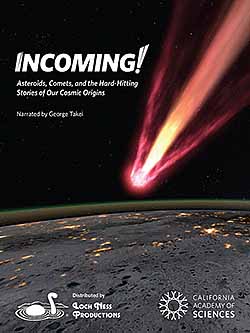 The California Academy of Sciences Morrison Planetarium has just released their latest fulldome show, "Incoming!" and Loch Ness Productions is pleased to have it in our catalog and ready to deliver!

"Incoming!" is a show about asteroids, comets, and the hard-hitting stories of our cosmic origins. This 2016 original production explores the past, present, and future of our solar system, and the landmark discoveries scientists have made about impacts. Audiences discover what impacts can teach us and how scientific advances may allow us to find and track cosmic threats before they reach planet Earth.

Read more about "Incoming!" at the LNP blog

and you can get all the details about the show, including pricing and previews on the LNP Web site!

Check it out!