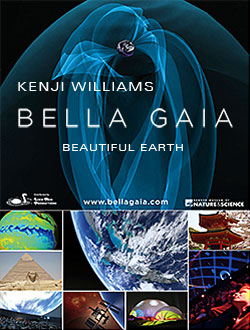 We're extremely pleased to announce the addition of Kenji Williams's magnificent fulldome show Bella Gaia to our growing distribution catalog. Many planetarians have seen and appreciated his performances at the Chicago IPS meeting in 2008, and in other domes around the world. Now, you can capture that same spirit of exploration of the universe through art and music on your own dome!
Bella Gaia is an unprecedented audiovisual experience that combines satellite imagery and science visualizations of Earth, time-lapse nature photography, and cultural heritage scenes with stirring musical performances.
From ancient Egyptian tombs, Indian rituals, cherry blossoms, and city scenes in Tokyo and New York, this beautiful fulldome show explores the relationship between human civilization and our ecosystem through time. It illuminates humanity's impact on nature in a way that taps audiences' emotional intelligence.
NASA has recognized the show's ability to engage and inspire a wide demographic, and recently awarded Bella Gaia a significant grant for an education platform for K-12 students across the country. The show won the Best Soundtrack award at last year's IPS/Macao International Fulldome Festival.
Take YOUR audiences on this inspiring journey across the face of our planet so that they, too, can enjoy the same awesome views and feelings that astronauts enjoy each time they live and work in space. It may well be the most beautiful, moving, and educational experiences you can offer in your dome.
Surf on over to the Bella Gaia page for more information, previews and prices.