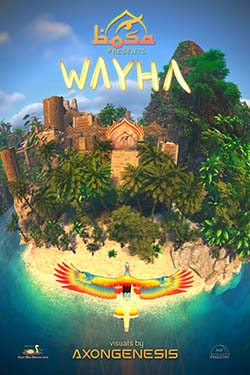 We start out the new year with a really cool project: WAYHA!
Wayha is an immersive music video collaboration by BÓSA (Stephan Jacobs) and Axon Genesis (Stephen Walker). Set to tribal world sounds, the show takes viewers on a fantastic journey following the migratory flight of the phoenix. Representing a celebration of rebirth and renewal, Wayha is a music-visual exploration of our deep connection with nature and the cycles that continuously bring life into the world.
Go to the Loch Ness Productions Web site to read more:
https://www.lochnessproductions.com/shows/axg/wyh.html
You'll find previews of the trailer in flat-screen and 360 video, and the full-length show. You'll also find the licensing information, as well as a look "behind the scenes" by the creators.
You can stream it on FULLDOME OnDemand (in 1K, 2K fisheye and 4K prewarped versions):
https://www.fulldomeondemand.com/shows_ae.html#WYH
and view Wayha with your VR headset at VR Dome Theater:
http://www.VRDomeTheater.com/shows_more.html#WYH
Enjoy!